Vision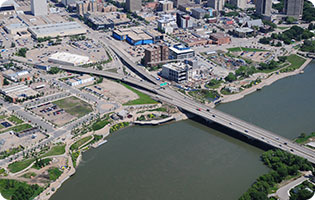 Saskatoon has one of the highest quality of life ratings in the country...and a river runs through it. In survey after survey, Saskatoon residents have rated the beautiful South Saskatchewan River as their most treasured civic asset, and for good reason. The water that flows through the Meewasin Valley brings life to the city in the form of potable water, recreation, and a bounty of wildlife - not to mention the scenery which is nothing short of spectacular.
As all prairie people have shared a special connection to the land, the residents of Saskatoon have enjoyed a bond with their river. There is a demonstrated community desire, and a clear opportunity to transform south downtown into an urban riverfront which is vital, animated, safe, and economically viable - a site which engages community pride and excites visitors - a site which integrates with the ecological fabric of downtown and the river valley. This desire has manifested in the River Landing redevelopment project – guaranteeing river access for everyone while recognizing the economic activity and job creation that sustainable business brings to the community.
The development of River Landing presents an exciting social, cultural and commercial focus in one of Canada's fastest growing communities - a showcase and lasting legacy for the citizens of Saskatoon, the people of Saskatchewan, and proud Canadians.
Rollover the dots on the map below to see more information about that area. You can click on the dots with the white glow for further information.