Phase 2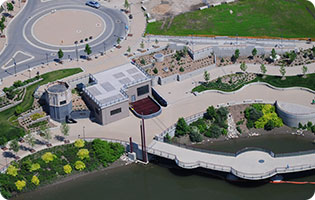 The River Landing Phase II redevelopment project was designed to enhance the sustainability of downtown by reclaiming and developing the A.L. Cole "brownfield" and surrounding area - literally the front yard of Saskatoon's downtown and one of the main entries to core neighbourhoods that require extensive revitalization. The redevelopment includes:
the clean-up of contamination on the former A.L. Cole power site to residential standards;
the clean-up, design and development of the riverfront including a new boat dock, the construction of public spaces, and new linkages to the River Landing Phase I site and other related amenities;
the installation of underground services, parking, and roadways to provide proper access to the site;
the construction of a park, with appropriate sound attenuation, including berming to mask an unsightly and loud electrical transformer site;
the reclamation and conversion of an old electrical building into a farmers' market, business centre (incubator), and village square;
the removal of the unsightly, unused 19th Street overpass, and the streetscaping of all the entry ways to the site; and,
the development of new residential and commercial opportunities.
This reclamation project was made possible through generous funding by the Federal and Provincial Governments.